With the lockdown beginning to ease and thoughts of travel sneak back into our minds, we're likely to see a return to the staycation and exploring everything the UK has to offer.
We've taken a look at the UK's best destinations for pet owners to spend a break away from home. A mix of sea air, forest walks and lakeside ambles are the perfect setting for relaxation and a new environment for your dog to enjoy. Let's dive straight in!
1. County Antrim, Northern Ireland
County Antrim is one of the six counties that make up Northern Ireland. It sits on the northern coast and includes such natural wonders as the Giant's Causeway, a UNESCO World Heritage site.
This sunning coastline has two stories around its formation. First tells the tale of a giant, Finn McCool (aka. Fionn mac Cumhaill). Finn created the causeway by throwing chunks of the Antrim coast into the sea as a path to Scotland, where we planned to take on the formidable Benandonner, who was threatening Ireland.
The second story is more scientific, and explains that the causeway's basalt columns were created 60 million years ago from volcanic eruptions and subsequent cooling that forms the hexagonal columns we see today.
Whichever one you want to believe, it's a fascinating place to visit for you and your dog. Dogs are allowed on the causeway if on a lead, but if you're looking to give your 4-legged friend a bit more of a run around then other areas of the 33-mile Causeway Coastal Way provide the perfect opportunity to do so. We've selected the Antrim Cliff Path to Dunseverick Castle as our favourite, it's 5.5 miles long and leads you through high cliffs and into secluded coves before arriving the stunning Dunseverick Castle where you can take a well-earned rest.
Nearby there's the Dunseverick Rambler's Rest which offers the perfect place for you and your pooch to rest your heads for the night before explore more of what the county has to offer.
2. Durdle Door to Lulworth Cove Walk
The Jurassic Coast in Dorset is located in the Dorset Area of Outstanding Natural Beauty (AONB). Just south of the New Forest – another great place for dog walking – is this beautiful walk. Lulworth Cove at one end of the walk is a picturesque town with quaint cottages leading down to the cove itself whilst Durdle Door limestone arch lies at the other.
It's not a particularly lengthy walk, 1.5 miles one way which takes around 40 minutes, but one that you'll be taking plenty of time over to savour the views and catch your breath as it is quite hilly. This area gets very busy particularly when the sun is shining so it's worth planning ahead and getting there early.
The walk takes you over the cliffs but be prepared for a steep climb if you start from the Lulworth Cove end, one that smaller dogs might not be quite so keen on! If you need a place to rest and recover then the wonderful pet friendly Lulworth Lodge can provide the purr-fect pick-me-up.
Once you've navigated the climb, you'll have fantastic views out to the channel and as you continue you'll come across St Oswald's Bay, then into view will come both Man O'War Beach and Durdle Door – one of Dorset's most photographed landmarks.
3. Barton Hills Nature Reserve
Tucked away in the Chilterns, the Barton Hill Nature Reserve is the perfect place for nature lovers. The down-lands and grasslands here attract a whole host of wildlife and flowers. Expect to see a wide variety of butterflies and orchids on your walks here.
Many of the walks here will be hilly and undulating which may be a challenge for some dogs, however a good walk to begin with stretches along Barton Brook which whilst unpaved is less steep to tackle, likely a blessing for your dog and you!
As the Barton Hills Nature Reserve is connected to the Chilterns there are plenty of other wonderful walks to explore, perhaps basing yourself further south than the Barton Hills will allow you to explore more of this stunning area of the UK.
4. Lochore Meadows
Lochore Meadows is a country park in Fife, Scotland which is the perfect space to relax and enjoy 1,200 acres of Scottish wildlife and landscapes. It's a great place for whole family adventures as it has the stunning Loch Ore at the centre which lends itself to water-sports, wild swimming and fishing. Around the Loch are wonderful wildflower meadows, park lands and ancient woodlands for you and your 4-legged friend to explore.
Not far beyond the country park itself and you'll be able to explore more of what Scotland has to offer, you'll be close to the Lomond Hills, Loch Leven and if you're a golf lover then the home of golf, St Andrew's, is just an hour away.
It's also perfectly located to marry city breaks with rural retreats as in around 45 mins you'll be in the capital, Edinburgh.
This gives you a whole number of options when choosing where to stay. The closest pet friendly hotel near the country park would be Pitbauchlie House Hotel but given how close you are to Edinburgh or St Andrew's you'll have a wide range of choices such as WM Apartments, The Torfin and the Kimpton – Charlotte Square are all worth checking out.
5. Birling Gap, East Sussex
Birling Gap and the Seven Sisters is a beautiful section of the South Downs. Managed by the National Trust, it is a diverse landscape where you can be strolling on beaches, playing in rock pools, walking over cliff-edges and through down-lands all in the space of one walk.
You can complete a number of different routes here depending upon how much time or energy you and your dog have, but the length of the walk tends to go from Cuckmere Haven to Birling Gap – taking in the Seven Sisters along the way. This will take around 90 minutes to complete.
Given that elements of the walk involve cliff edges then it is important to be aware of that in order to keep yourself and your dogs safe and on a lead at this part of the walk. But once you've got over the cliffs there are plenty of areas where your dog can go off and explore the water and countryside.
The South Downs National Park stretches across Sussex across to Hampshire, so there's plenty to explore. Birling Gap and Seven Sisters is at the very eastern edge of the park close to Eastbourne and Brighton giving you plenty of other things to do if you're planning a staycation this year.
Brighton, with its vibrant nightlife, famous stony beach, fantastic restaurants and artsy feel could be a good place to base yourself, there are some lovely seafront walks that you and your pooch will love and also has easy transport links to famous walks around Devil's Dyke, also in the South Downs National Park for some steeper and quieter climbs.
In the opposite direction you can head towards Hastings and Battle where you can learn all about the 1066 Norman conquest, and the woods in which so much history was written.
6. Erddig, Wrexham
Next on the list is another National Trust site, this time in Wales. The 1,200 acre site is the perfect place for picnics and riverside relaxing whilst your 4-legged friend will love the large estate. Dogs are welcome in the Midden Yard and on the estate but they must be kept on a lead. Meanwhile assistance dogs can access the garden and Stable Yard.
If you love exploring pieces of history then this stately home is well worth a visit inside, as it the motte and bailey castle also on site. Naturally dogs aren't able to be inside the home so plan ahead if you're looking to explore this as well as the grounds.
Situated around 20 minutes outside of Wrexham and just over an hour to the beautiful national park of Snowdonia there are plenty of things to explore just a stones throw from Erddig itself. If you and your dog are ambitious then you could even take a trek up Snowdon, Wales highest peak, or for those less adventurous there's always a train that'll do the legwork for you!
7. The Eye of Windrush and Slaughter circular, Bourton-on-the-Water, The Cotswolds
Some of the most wonderful English villages and rolling hills can be found in the Cotswolds, these are just a couple of reasons that this area of outstanding natural beauty attracts 38 million visitors each year. The Cotswolds spans Gloucestershire, Oxfordshire, Warwickshire, Wiltshire and Worcestershire, but the walk we've chosen is in Gloucestershire.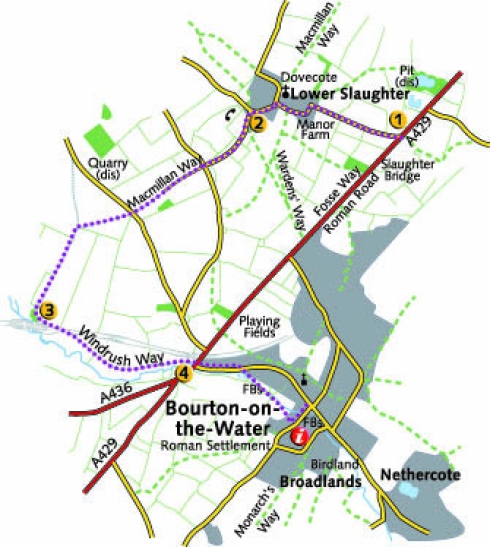 This walk takes you from the river Eye at Lower Slaughter connecting you with the river Windrush at Bourton through classic Cotswold villages. It'll take around 2 hours to complete the 3.2 mile (5km) walk. This makes it perfect for those dogs which need more exercise such as Siberian Huskies, Labrador Retrievers, Golden Retrievers, German Shepherds, Weimaraners and Border Collies. Although you can always break up walks like this for smaller dogs or those that require less exercise.
Bourton-on-the-Water is towards the northern end of the Cotswold AONB, it's also very close to many of the picturesque villages such as Stow-on-the-Wold and Burford – which are well worth a visit if you have time.
For those of you who want to explore the wider area, then towns like Oxford – where for Harry Potter fans you can visit The Great Hall as part of the Christ Church college at the University of Oxford. Nearby, in Stratford-upon-Avon, you can also explore the history of arguably Britain's most famous literary figure, William Shakespeare.
Most places are drive-able within an hour so it's all pretty accessible but a great pet friendly place to stay that comes personally recommended from one of our team is The Lygon Arms in Broadway – where dogs stay free.
8. Epping Forest
Epping Forest is huge, over 5,900 acres of ancient woodland, lakes and grassland located in Essex mainly but stretches into London. You can walk your dog anywhere in the woods provided that you keep them under control or on a lead.
A good place to start is at one of the 4 visitor centres which can give you a better idea of all the walks that are available to you. We've chosen a 5-mile circular walk that takes in all that Epping Forest has to offer. You'll cover Chingford Plain, High Beach, Loughton Camp, Kate's Cellar, Strawberry Hill Ponds, Connaught Water and the Queen Elizabeth Hunting Lodge. Along the way you'll be able to take in the reflections on the lake, the wildlife, flora and fauna.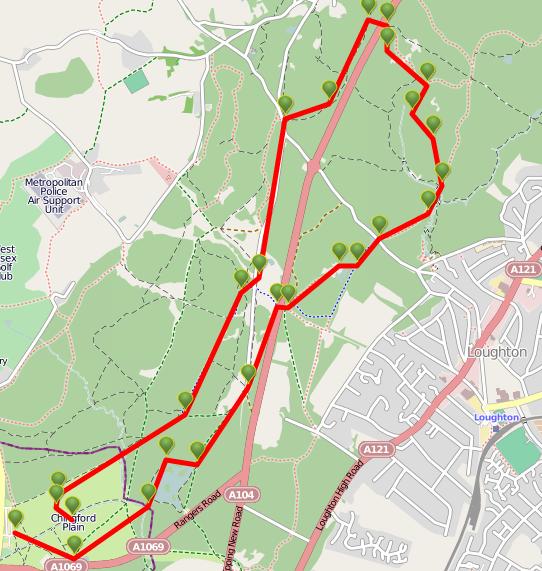 Around Essex's Epping Forest are some lovely villages, not far you'll find Theydon Bois which has some village greens and quaint pubs to rest your weary legs and refesh both you and your dog. It's well worth getting out in to the countryside of Essex heading further north to villages close to Colchester, such as Coggeshall, Marks Tey and Great Tey – which themselves have lovely scenery to enjoy and vast expanses for the dogs to enjoy.
Because Epping is on the end of the Central line of the Underground, a stay in Central London is certainly an option, The Montague on the Gardens in Bloomsbury is a great pet friendly option, while the  Treehouse Hotel on Oxford Street can satisfy any shopping urge you may have.
If you prefer staying further into the countryside, then Down Hall Hotel near Bishop Stortford and The Compasses in Pattiswick are both great rural options.
9. Derwentwater, Lake District
It wouldn't be right to talk about dog walking and staycations without mentioning the Lake District. Located in Cumbria in North West England, there are many areas to explore here from the market towns of Keswick and Kendal to the lakes of Windemere and Ullswater.
Similar to Erddig, where you could also tag on a trip up Snowdon, the Lake District offers you and your 4-legged friend the opportunity to climb England's highest mountain. Again it's a lengthy day if you decide to do this so it's suitable for dogs that are familiar with long walks.
That aside, the walk we've chosen is around Derwentwater, aka Queen of the Lakes. This scenic walks takes you along the perimeter of the 3 mile long, 1 mile wide lake as well as taking you on a exploration of the ancient woodlands that surround it. While the full length of the walk is 10 miles thankfully it is relatively flat so certainly achievable for you and your pooch. If needed it can be broken up in to different stages. There are plenty of places to stop for a snack either at picnic tables if you've packed your own or in the many cafes en route.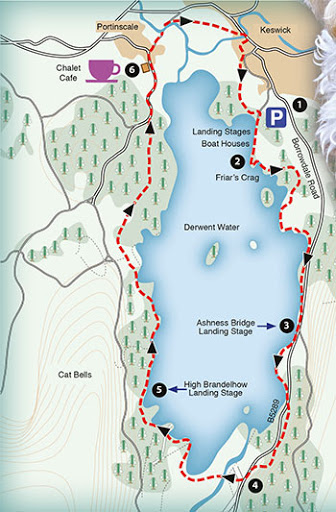 The best place to stay for Derwentwater will be Keswick. Here you'll find plenty of pet friendly hotels and guesthouses to base yourself to make the most of what the Lake District has to offer – The Mary Mount Hotel is a personal favourite.
10. Lizard Coastal Walk, Cornwall
Every year 4 million visitors take a trip to Cornwall, attracted by it's dramatic coastline, quaint villages and Cornish pasties(!). It's a great place for dog lovers as there are so many wonderful seaside walks such as Tintagel and Padstow to St Ives and St Agnes, but they one we've picked out is the Lizard Coastal walk on the south coast of Cornwall.
The walk starts at Kynance Cove and heads around the Lizard Peninsula past Pentreath Beach, taking in Polpeor Cove, Lizard Lighthouse and Pen Olver before heading back to Kynance Cove via the town of Lizard itself.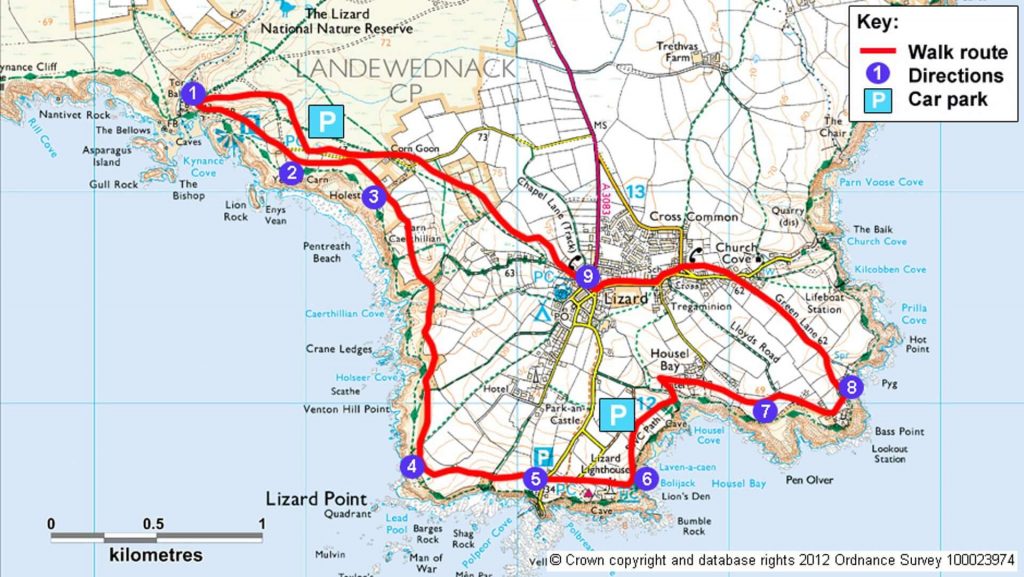 Along the route there'll be unfenced cliff edges so the recommendation is to keep dogs on leads, and it's worth mentioning that while dogs are allowed on Pentreath Beach year round, it's not the same for Kynance Cove, so it's worth checking before you go whether your 4-legged friend will be able to access each beach you'll encounter.
There are plenty of cafes along the route allowing you to both refresh yourself and your dog while taking in the beautiful views. Places to stay in Cornwall will be plenty, but due to the unique way the county is shaped and the amount of things to do, it can take a while to get from one end to the other so it's worth checking what area meets your needs. For more dramatic coastlines the north coast could be ideal while there are softer more family friendly beaches on the south coast. Areas like St Ives are fantastic for creative and artistic flair while the wonderful Minack Theatre is here too, yet the region of Bodmin might prove better for history and countryside lovers.
Let us know about your favourite pet friendly staycations and your favourite dog walks in the UK, we'd love to hear from you.
Related articles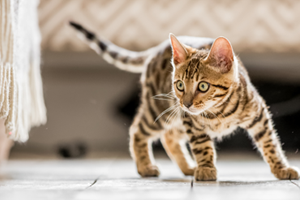 ---
Cats can't tell us how they're feeling but they can show us. Have a look at the signs to look out for to get a read on your kitty.
Read more >
Call the animal behaviouralist
---
We all try training our pets at home but sometimes their behavioural problems persist and we need the help of an animal behaviouralist.
Read more >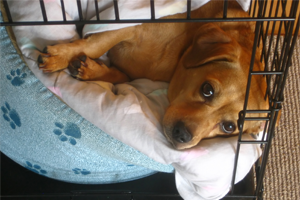 ---
Crates are a great tool to help train your puppy, provided they are used correctly. Have a look at how to begin crate training your puppy.
Read more >