Alternative Exercises to do with your Pets
Alternative exercises to do with your pet
All pets need daily exercise. To change up your pets' exercise routine we have come up with some alternative activities for you and your 4-legged friend to try. They are not only interactive, but fun too.
1. Hide and seek
Dogs are very clever and love to play. Try hiding somewhere, call your dog's name and wait for them to find you. Once they find you give them a treat and tell them well-done. They will feel very accomplished and happy with themselves. The look of excitement on their face will say it all.
2. Yoga
Yoga is typically done with dogs but it can be done with your cats too. It is a good way for you and your pet to get some quality time together to relax and form an even stronger bond. Your pet may be distracted during the session, that is okay, allow them to run around. Your serenity will rub off on them regardless. Once your pet accepts the calmness and comes to you, you can then reach out and begin to include them. Your pets can be included in any yoga practise you have.
There are dedicated dog yoga or "Doga" studios around the UK. The classes cost about £20 for 90 minutes. It is required for all dogs participating in these classes to be social, vaccinated and neutered.
3. Dog Golf
If your dog loves to play fetch, then dog golf could be a great new game to play. To begin, you will need a tennis ball and a golf club. Start by introducing your dog to the ball and throwing it a couple of times to peak their interest. From then on all you need to do is hit the tennis ball with a golf club and let your dog go fetch it. It is important to make sure there is a safe distance between your dog and the club. Dogs are naturally intuitive. Once the you have hit the ball they will chase after it. It is best to do this in your own garden and not in a public place.
If this it not for you, you can always change up your walk route by heading to a golf course. Before going, check the golf course allows dogs. Your dog must be on a lead at all times and should never walk on the greens or in the bunkers. If you, yourself, enjoy a round of golf you might be surprised to know that some of the UK's most famous courses allow dogs to accompany their owners. Some of these include Wentworth, Sunningdale, St. Andrews, Muirfield and Turnberry.
There are many beautiful locations around the UK to take your dog for a walk. If you're looking for some inspiring places we've listed our top 10  beautiful pet friendly staycations for you.
4. Treadmill
Your pet can walk on a treadmill at if they require a lot of exercise. This will allow them to release some pent-up energy. It is important you monitor them at all times. Any treadmill will do for smaller dogs. Larger dogs may require a longer treadmill depending on their length.
It might require a lot of positive reinforcement and treats to get your pet on the treadmill. Once they are there start them off slow and work to a faster pace. Remember to not force your pet to walk on a treadmill if they feel uncomfortable. Using a treadmill can be a useful way to exercise but it is not a replacement for walks outside. Your animal needs to be mentally stimulated too and walking outside is great for  their mental health.
Exercise is very important for your dog and cats mental and physical state. You must ensure they are getting enough exercise. This can come in any form. Safety should be your top priority although we know accidents do happen. Find out more about our pet insurance cover and how you can protect your pet when they need it.
Related articles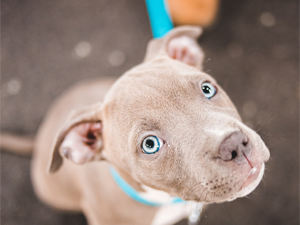 ---
While puppies are growing they should not go for long walks or over exercise. Have a look at what you need to know about walking your puppy.
Read more >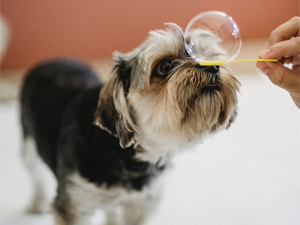 ---
We all know the importance of exercise for our pets but are they getting enough mental exercise? Read our tips to exercise your pets mind.
Read more >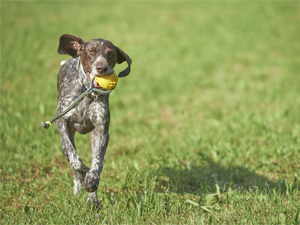 ---
We all know that exercise is important but too much of a good thing can be dangerous to our pets. Have a look at how to protect your pets.
Read more >